GBC Center in Pahrump Valley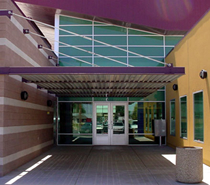 Pahrump, 436 miles south of Elko, is the home of GBC's newest location, the Pahrump Valley Center (PVC). The PVC is the center for GBC's offerings in Beatty, Gabbs, Round Mountain, Tonopah and other communities throughout Nye County. The PVC is currently a single building located on the campus of the Pahrump High School and is a joint use high tech center. During the day, high school classes and college classes use the classrooms in the building. When the high school day ends, GBC's college classes take over all the classrooms. A new 14,000 square foot building to be located on the North edge of Pahrump is in the planning phase with a "hoped for" completion in the future. The completion of the new building with it's additional laboratory facilities will enable GBC to begin offering additional health and technical courses and degree programs.
The current PVC staff includes a manager and two office staff, three full-time faculty members and over 20 adjunct faculty to coordinate and teach courses and degree programs. The full-time PVC staff is supplemented by nearly 20 part-time computer lab aids, interactive video facilitators, and tutors, plus a full-time advisor/recruiter to help with student advising and plan recruitment trips around Southern Nevada.
Facilities include 15 classrooms, including computer, science, and nursing laboratories.
You are cordially invited to visit the Pahrump Valley Center to see the computer and science laboratories, and to discuss your educational plans and how GBC can help you achieve your educational goal.
Center Information
Address: 551 East Calvada Blvd. Pahrump, NV 89048 [map]
Phone: 775-327-5210
Fax: 775-327-5167
E-mails:
Administrative Office Hours:

Monday thru Friday, 8:00 am - 5:00 pm

Academic Advising:
Placement Testing:

Monday thru Friday, 8:00 am - 5:00 pm. No appointment necessary. Arrive in time to complete test before 2:00 pm.

Proctored Testing:

Appointment is required for all proctored testing

Live Tutoring - Fall and Spring Semesters
Live tutoring is available in Math and English. Tutoring hours vary by subject and change each semester. Call the office for current tutoring hours and/or to leave a message for a tutor.
Tutoring at a Distance via E-mail or Skype
Check the Academic Success Center (ASC) web page for instructions.
Computer Labs
Lab hours:

Fall and Spring Semesters:

Monday thru Thursday, 8:00 - 9:45 pm
Friday, 8:00 am - 4:30 pm
Saturday, Sunday, and holidays, closed.

Lab hours may be limited during the summer months, and labs may be closed on holidays. Students using GBC computing facilities must be familiar with and abide by Lab Rules.

Number of computers available:

72 computers at the Pahrump Valley Center
6 in Tonopah, by appointment

Operating System:

Windows Version 7, 64-bit

Installed Software:

Microsoft Office 2010, including Word, Excel, Access, Power Point, and Publisher.
Internet Explorer, Firefox, and Chrome web browsers with Adobe Reader.
Additional software may be installed as required for specifc coursework. Check with your instructor.
Rural Locations Administered by the Pahrump Valley Center
The Pahrump Valley Center oversees classes offered via Interactive Video, as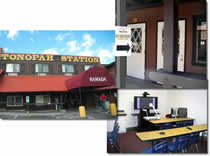 the need arises, in the following rural locations:
Armagosa Valley:

Amargosa Valley School, 777 E. Amargosa Farm Road, Armagosa Valley, Nevada

Beatty

Beatty Elementary, 110 4th Street, Beatty, Nevada [map]

Gabbs:

Gabbs School, 511 East Avenue, Gabbs, Nevada [map]

Round Mountain:
Tonopah

The Great Basin College Tonopah Satellite Site offers a variety of classes through our interactive video system. The site, which includes a small computer lab with classroom space, offers placement testing and proctored testing by appointment. The Tonopah site has very limited hours; so please stop by or leave a message!
For more information please contact the Tonopah Satellite Site:

1137 S Erie Main St. [map]
Local Coordinator: Krista Wharff
E-mail: krista.wharff@gbcnv.edu
Phone: 775-482-2010
Fax: 775-482-2013 or contact the Pahrump Valley Center

Dyer, Gold Field, & Silver Peak

Phone the Pahrump Valley Center for information.
For More Information Contact
Pahrump Valley Center [map]
Great Basin College
551 East Calvada Blvd.
Pahrump, NV 89048
Phone: 775-327-5210

Why Great Basin College
Great Basin College wants to be your choice for higher education. GBC offers associate and baccalaureate level instruction in career and technical education and academic areas. About 4,000 students are enrolled annually online from across the country and on campuses and centers across 86,500 square miles, two time zones, and ten of Nevada's largest counties. We border Arizona, Oregon, Idaho, Utah, and California. We are GBC!